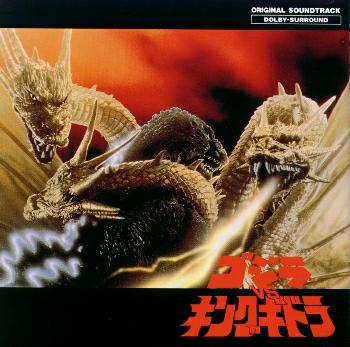 © 1998 Lawrence Tuczynski
Title:
Godzilla vs. King Ghidorah
Japanese Title:
Gojira Tai Kingu Gidora
Movie also known as:
N/A
CD Label:
Emotion
CD Number:
BCCE-9001R-9002R
Music by:
Akira Ifukube
Number of tracks:
Disc 1 - 24
Disc 2 - 6
Running time:
Disc 1 - 37:05
Disc 2 - 74:21
Number of discs:
2
Year of release/manufacture:
1991
Year Movie Released in Japan:
1991
Year Movie Released in U.S.(Video):
1998
DVD Released in U.S.:
Double DVD, Columbia/Tri-Star #03132, Nov.1998
Also has 1992 "Godzilla vs. Mothra"
NOTE:Disc 2 is made up mostly of dialogue & sound effects from the movie
REVIEW

Disc 1 in this set is made up of a lot of very short pieces with most running less than one minute. It's a nice mix of reworked previously done themes with some new music. The tracks run the gamut from rousing, action music to slow, plodding music. Real nice stereo separation.

Disc 2 is made up of movie dialogue and sound effects with the music mainly in the background. Strangely, Disc 2 has a running time almost double that of the 1st disc that contains the music.

Deciding between this 2 CD set and the single disc score is a toss up. The single disc has more actual music tracks from the movie than this 2 CD set but the essential music from the film is on both. Also, with the 2 CD set you get some movie dialogue and sound effects that you don't have on the single disc. The plus side on the 1 CD disc is that there is a lot less repetition.

U.S. Title:     Godzilla vs. King Ghidorah
Japanese Title: Gojira tai Kingu Gidora

1	Main Title - Godzilla vs. King Ghidorah
2	Remembering Lagos Island
3	The Unidentified Flying Object
4	Dinosaur Photo(s)
5	The Self Defense Force Swings into Action
6	3-D Image(s)
7	Teleportation
8	Suggestion(s) from the Future
9	MOTHER
10	The Dorats
11	Lagos Island 1944
12	The Garrison Charges
13	The Appearance of the Dinosaur(s)
14	Farewell to the Dinosaur (Godzilla)    *1 
15	M-11 Android(s)
16	The Bering Sea 1992
17	Godzilla's Resurrection
18	Godzilla Comes Ashore in Hokkaido
19	COMMUNICATION
20	Godzilla Advances on Sapporo
21	Godzilla vs. King Ghidorah
22	King Ghidorah Crashes
23	Farewell My Homeland
24	Godzilla Never Dies

*1  Alternative Translation:  Farewell to the Dinosaurs (Godzilla)

Disc 2* 

1	Track 1
2	Track 2
3	Track 3
4	Track 4
5	Track 5
6	Track 6

(* Yes, they are listed as Track 1-6)